TS Pelican tall ship set for Shackleton Antarctic trip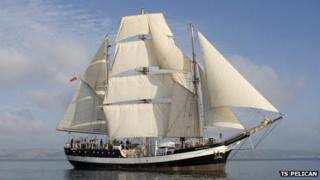 The crew of a Weymouth-based tall ship is preparing to take part in a re-enactment of one of the greatest feats of exploration endurance.
The TS Pelican is due to set sail for Chile as the support vessel on a recreation of Ernest Shackleton's Antarctic expedition of 1914-16.
In January it will travel from Punta Arenas, Chile down to the Antarctic Peninsula, via Elephant Island and South Georgia, finishing in Rio de Janeiro, Brazil.
Ernest Shackleton's ship Endurance was crushed by ice in Weddell Sea during his expedition to the South Pole in January 1915.
The crew dragged their lifeboats to Elephant Island from where Shackleton and five of his men took one of the small open craft, named James Caird, the 800 miles to South Georgia to get help.
They had to cross the mountainous interior of South Georgia to get to a former whaling station at Stromness. A Chilean ship was then dispatched to successfully rescue the men back at Elephant Island.
Polar adventurer Tim Jarvis will lead the Shackleton Epic expedition - an effort to repeat the journey in a purpose-built replica named Alexandra Shackleton after the explorer's granddaughter.
'Pretty fearsome'
TS Pelican will support the expedition, providing communications and a filming platform as well as emergency assistance if the rowing boat crew get into difficulties.
Originally built in France in 1946, TS Pelican has been extensively restored and is run as a sail training ship for young people by the Adventure Under Sail charity.
At 144 ft (44m) long it is similar in size and design to Shackleton's ill-fated Endurance.
Chief Engineer Bruce Pooley described the 260 horse power engine being readied for the journey as "fairly old but very, very reliable".
For Captain Darren Naggs, the "pretty fearsome" seas of the Drake Passage between Antarctica and South America will be the greatest challenge of the 9,000 mile (14,500km) trip.
"If the weather does come in, it generates a huge sea. We're very aware it's pretty tricky and we're preparing to expect some bad weather."
The mission will also be raising money for Antarctic conservation by charity Flora and Fauna International (FFI).
Mark Rose, of FFI, said: "Change to global weather patterns is one of the greatest threats that will face biodiversity over the coming years and the Shackleton Epic highlights the need for action to conserve the Antarctic ecosystem."
The ship is manned by 29 crew with ten additional places available for passengers who can pay up to £18,000 to take an active part in the expedition from Chile.
Bosun Jeremy Goldrich said: "It's such a strange environment down there - the sea is a complete beast. The ship will certainly survive, it's the people who tend to break down there."
Captain Naggs said there will be a "dynamic mix" paying tribute to Ernest Shackleton, one of the great figures in polar exploration.
He said: "Ernest Shackleton has been a little bit lost in history but his style of leadership was second to none and that's what we're celebrating. He never asked his men to do anything he wouldn't do himself.
"He would listen and evaluate each person's input and that generated loyalty - he led through example. That style of leadership is as relevant now as it was then."
TS Pelican is expected to leave port in Weymouth by Wednesday, 26 September.