Hopes of 'fresh look' at saving Portland rescue helicopter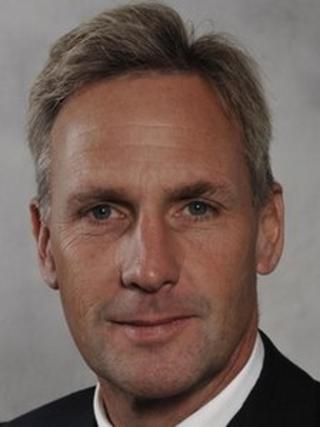 A Tory MP campaigning to save a Dorset search and rescue helicopter hopes the new transport secretary will have a "fresh look" at the issue.
Richard Drax, who represents South Dorset, believes replacing Portland coastguard helicopter with a regional service will result in "loss of life".
Former transport secretary Justine Greening wanted to scrap the service after 2017, as part of reform plans.
But she has now been replaced by former Tory Chief Whip Patrick McLoughlin.
Stephen Hammond also replaced Teresa Villiers as transport minister in the government reshuffle earlier this month.
Mr Drax had accused Miss Greening, who has been moved to the lower-profile role of international development secretary, of snubbing his invitations to meet those involved in the operation in Dorset.
'Listen to experts'
Asked if the changes would help his campaign, Mr Drax said: "While I cannot promise success in retaining the helicopter centre, I am hopeful the two new appointments will lead to a fresh look at this whole question."
Mr Drax has written to both Mr McLoughlin and Mr Hammond to invite them to Portland to "listen to the experts".
"I have at the same time submitted a 12-page report to the Commons Select Committee on Transport, with contributions from a lot of people who cannot talk on-the-record for fear of losing their jobs," he said.
"I'm hoping this will hold sway when the select committee meet to talk about this issue," he said.
"We are also looking to appoint someone, who is not a politician, who has the time and the passion to co-ordinate the campaign to save the Portland helicopter."
A new Save the Portland Coastguard Helicopter e-petition has received more than 10,500 signatures since it was set up on 31 July.
Mr Drax hopes the e-petition will receive 100,000 signatures before 30 July next year, so it may force a debate in parliament.
A previous e-petition, which received 18,000 signatures, closed in August at the request of creator Dr Ian Mew.
Modern, faster fleet
The Portland Maritime Rescue Co-ordination Centre is scheduled to close sometime between 2013 and 2015 and be replaced by a new Maritime Operations Centre in Fareham, Hampshire.
Miss Greening had said the proposed changes would improve the helicopter service along the south coast and reduce the time it took to get to rescues.
The Portland helicopter attended 202 incidents last year, while the helicopter based in Lee-on-the-Solent, which is in operation 24 hours a day, attended 219.
The Department for Transport has previously said a more modern, faster fleet of helicopters operating from fewer bases would provide a more reliable overall service that still met the key search-and-rescue requirements.