Wimborne Minster tower gets new bells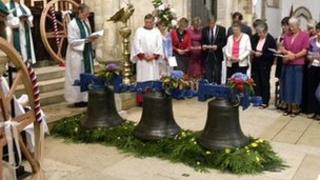 A trio of new bells has been lifted into the tower of a medieval church in Dorset.
The bells, which weigh 250kg (550lb) each, were raised into the 27m (90ft) West Tower of Wimborne Minster.
They sit alongside 10 existing bells which were installed to mark the coronation of King George V in 1911.
Church warden Anthony Oliver said a "lovely, joyful tone rang around the minster" when one of the new bells was tested.
Wimborne Minster dates back to Norman times and records exist of bells being rung in the church in 1475.
The new bells were cast earlier this year at Whitechapel Foundry in London, on the same day as the bells used for the Diamond Jubilee Rover Thames Pageant in June.
After they were blessed during a service in the minster, the bells were raised into position by Oxford-based church bell installers Whites of Appleton.
Funding has come from a combination of private sources and church organisations.
The full installation work is expected to take several weeks to complete.