Studland to Portland reefs to get special protection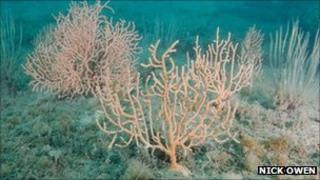 Reefs off the Dorset coast are to be given special protection.
The 330 sq km area from Studland to Portland will become the 37th Special Area of Conservation (SAC) in English territorial waters.
The protection means its reefs will be protected from damaging human activities and its marine life conserved.
The announcement was made by the Natural Environment Minister Richard Benyon.
He said: "This is a major step towards fulfilling our promise to create a network of marine protected areas where marine life can thrive."
Rare features
The site is between Studland and Portland along the coast from where the Olympic sailing events recently took place. It is more than half the size of the New Forest National Park.
Volunteer divers from the Seasearch programme have highlighted the importance of the site recording seabed species and habitats through a seabed mapping project.
The work revealed the reefs were in very good condition with brightly coloured sponges, pink sea fans, cup corals and reef-building mussels.
The project was co-ordinated by the Dorset Wildlife Trust.
Peter Tinsley, the trust's living seas manager said: "We are delighted by this long-awaited announcement.
"This is official recognition of the high, indeed international, value of reef habitats on Dorset's seabed."