Bournemouth unveils plans to attract more tourists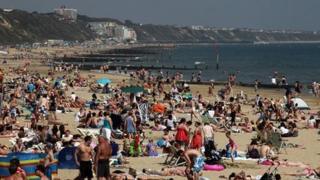 Bournemouth businesses have unveiled plans to attract more tourists to the town centre and seafront.
Local firms and traders have invested £7m for projects including a Christmas ice rink, a Family Adventure Weekend and extending its seafront land train.
There will be an Autumn Glow campaign to attract more tourists in October and November, and 'you are here' map signs installed in the town centre.
Currently on average 4.7m people visit Bournemouth each year.
'More thriving'
The plans were announced at a Business Improvement District (BID) launch on Wednesday, organised jointly by the Town Centre BID and the Coastal BID.
"Bournemouth has a thriving town centre but it can also be more thriving," said Gregg Dunnett from the Bournemouth Town Centre BID.
"All town centres and all high streets are facing difficult times because of the double dip recession, they have also been affected dramatically by out-of-town and internet shopping".
Alun Williams, of the Dorset town's Coastal BID, said people visiting Bournemouth contributed £425m to the local economy.
But he said the town had to compete with cheap overseas destinations and also "cities such as Manchester and Birmingham being marketed as tourist destinations".
A planning application for the land train from Alum Chine to Boscombe has been submitted to extend the line to Westbourne.
Town Centre Rangers who offer tourist information but who are also trained to deal with anti-social behaviour in the streets were launched last month.
Around 1,350 businesses and traders will fund the projects through a levy worth 1.5% of their business rates.