Weymouth beach search sparked by man in just underwear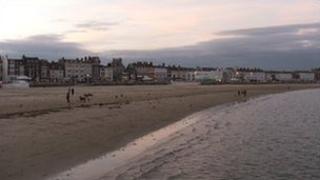 A drunk man wearing just his underwear sparked a coastguard search during the early hours after leaving his clothes and boots on Weymouth beach in Dorset.
Portland Coastguard feared the man had gone into the sea so two lifeboats were launched and lifeguards searched the beach for over an hour.
Police found the man "a little worse for wear" at about 05:00 BST.
A coastguard spokesman said he had walked about a mile back to the house he was staying - in just his underwear.
"When he was found he was a bit worse for wear," he said.
"He turned up back safe at the house where he was staying and was slowly sobering up."
Dorset Police managed to track the man down after finding identification in his discarded wallet.
His pile of clothes - including his jeans, boots and socks - had been found by street pastors who raised the alarm.