British White cattle used to restore Upton Heath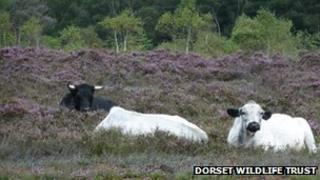 Rare cattle have been brought on to a nature reserve in Dorset in order to help restore the natural heathland.
Brendon and Dragon are British White cattle, a minority breed that date back to at least the 17th Century.
Dorset Wildlife Trust has released them onto its Upton Heath reserve, which was devastated in June 2011 by the county's largest heath fire for 35 years.
The animals help to keep vegetation in check, encouraging the return of heathland plants to the burnt area.
'Hardy breeds'
The trust said a third of the heath was destroyed by the fire in June and the full recovery of the land could take 10 years, while the wildlife may not recover for a further 15.
The two British Whites join three Shetland Cattle already on the 500 acre site and during the winter a further three British Whites will be released.
Andy Fale, Upton Heath restoration project officer, said: "Grazing Upton Heath is the traditional and best way to restore and manage this very rare wildlife habitat.
"The Shetlands have made a great start since July and the British Whites will help them in keeping this large area in the best condition for its rare wildlife and reducing the amount of burnable vegetation in the event of a fire.
"Both breeds are hardy and they don't hesitate to get into the hard-to-reach parts of the reserve, showing why British rare breeds are perfect for conservation management."