Dorset Police Chief Constable Martin Baker resigns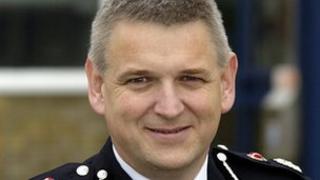 Dorset Police's most senior officer is resigning after nearly eight years with the force.
Chief Constable Martin Baker will step down at the end of September.
Deputy Chief Constable Debbie Simpson was appointed acting chief constable by Dorset Police Authority and will take up her new role on 1 October.
She is overseeing preparations for the transition from police authorities to police and crime commissioners taking place in November.
Mr Baker said: "After eight years as chief constable in Dorset and over 38 years as a serving police officer, I feel the time is right to hand over leadership of the force."
'Unprecedented cuts'
He said it had been a privilege and thanked his colleagues for their "commitment, drive and ability".
"I would particularly like to thank my wife and my three daughters for their immense support throughout my policing career, they have cheerfully endured all of the house moves and the endless new schools and I cannot fully express to them my immense gratitude," he added.
Mr Baker has been chief constable of Dorset Police since January 2005 after transferring from Gloucestershire Constabulary, where he was assistant chief constable and deputy chief constable.
His career began with the Metropolitan Police in 1974 and he also served in both uniform and detective roles with the West Mercia and Gwent forces.
Michael Taylor, chairman of Dorset Police Authority, thanked Mr Baker, adding: "Under his leadership crime has consistently fallen and public confidence increased, despite unprecedented cuts in funding."
The authority also approved the appointment of assistant chief constable Adrian Whiting as the force's acting deputy chief constable from 1 October.