Joy of Death in Bournemouth aims to break taboos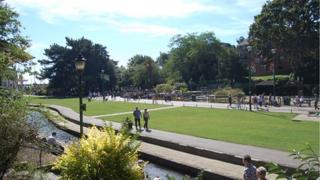 Wedding fairs are commonplace around the country as happy couples prepare for their big day.
Mention the concept of a funeral fair to help plan your final farewell and the initial reaction might be a combination of shock and surprise.
But in Bournemouth this weekend, more than 150 people from inside the funeral industry are gathering for the peculiarly titled "Joy of Death Festival".
Now in its second year, not only does it exhibit which coffins to buy or what hearse to ride in the back of, it also recognises the "unsung heroes" of the bereavement business.
For the first time, they will get their moment in the spotlight at The Good Funeral Guide Awards.
Embalmers to grave diggers, florists to coffin suppliers receive their own "Oscar" for excelling in their field.
While the idea might seem morbid to some, the awards and conference aim to debunk the taboos around dealing with death and grief.
'Hollywood-style'
The idea of Bournemouth resident Brian Jenner, he turned his love for the US television series Six Feet Under into a chance to showcase what can be made of planning for your "send off".
He said: "Six Feet Under brought a kind of Hollywood-style to how funeral directors deal with death and grief.
"What we're trying to do is breakdown that stereotype of it being a stuffy, regimented and formal industry and show there's some flair and imagination in it."
Despite Mr Jenner's lofty ambitions and a healthy response from around the country, so far no funeral directors from around Bournemouth have nominated themselves for the industry awards.
He added: "Bournemouth's a place where there are constant battles between the old guard and the progressives.
"I've found the best way to challenge the stereotypes of it being a town where people come to retire and die, is to pander to them."
A sign that resistance remains came when Mr Jenner was denied his wish to organise a procession of hearses through the town or a public display in the Lower Gardens of some of the more colourful and creative coffins on the market.
"That's a shame, as we wanted something which would draw the public in to us, but we'll keep trying and maybe get permission for it next year."
Certainty in death
Charles Cowling, the creator of The Good Funeral Guide, said the conference might seem like an unusual idea but it had proved popular.
"There's one certain thing we will all have to deal with in life, and that's death," he said.
"You'd probably think, 'why would people want to gather by the seaside and talk about death for a whole weekend?'
"But, last year we were absolutely overwhelmed by the response and it's because there's something inside every single person that draws them to us.
"We're merely satisfying that curiosity and celebrating those who make a difference at such an emotionally chaotic stage of people's lives."
Grief specialist Kristie West is among the guest speakers attending. The New Zealand-born former grief coach admits it is an unusual event in her work calendar.
She said: "Friends get a bit surprised when you tell them what you're going to when you mention this conference, but those who know my work aren't that taken aback.
"A lot of it is about making people more death aware. The fact a lot of people in this country aren't and still maintain that 'stiff upper-lip' approach affects how they deal with funerals.
"Going back to the conference title, there is joy to take out of death, but people don't necessarily look for it.
"We're almost conditioned not to and events like this aim to break that perception down."