Ex police officer Matthew Cherry jailed for unborn baby attack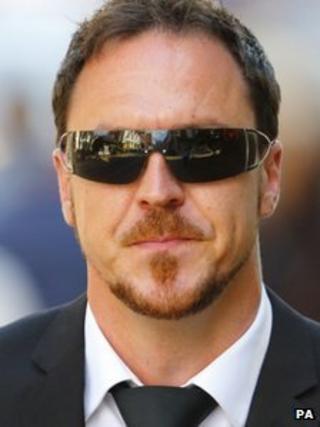 A former Dorset police officer has been jailed for 10 years for repeatedly punching his pregnant ex girlfriend in the abdomen to bring on a miscarriage.
Matthew Cherry, 35, attacked Caroline Craft, 27, at her flat in Bournemouth in 2011, as he did not want her to have his baby, Winchester Crown Court heard.
Cherry, formerly of Parkstone, Poole, had denied a charge of attempting to cause grievous bodily harm with intent.
Miss Craft later gave birth to a healthy boy, who is now 15 months old.
Cherry, now living in Southampton, left the force after the attack.
Miss Craft, a fellow police officer, was six months pregnant when she answered the door of her ground-floor flat in Bournemouth, on 24 March, thinking it was an estate agent who had come to view her property.
'Bloodied and bruised'
Cherry, wearing a balaclava and using a fake foreign accent, then carried out a "savage attack" on her, jurors heard.
He punched her in the stomach and back, targeting her unborn child and leaving her "bloodied and bruised".
The Recorder of Winchester, Judge Keith Cutler, told Cherry: "It was a pernicious and evil attack. On your part there was a high degree of planning."
Earlier in the trial, Matthew Jewell, prosecuting, said Miss Craft pointed out valuable items to the intruder in case it was a robbery or burglary but her attacker showed no interest in taking anything.
"She was dragged into the bathroom and forced to sit on the toilet.
"The male said he would tie her up. She was absolutely terrified about what was happening to her in her own home."
The attack only ended when the estate agent arrived.
Cherry fled, using a back door, as he knew the block well having owned the flat before selling it to Miss Craft.
'Ruined his life'
Cherry, who was angry Miss Craft would not have an abortion, claimed he was renovating a house at the time of the attack.
Jurors heard how he had earlier told Miss Craft and her flatmate Carla Hutchings that he had thought about punching her to cause a miscarriage.
He said the pregnancy had left him feeling trapped and had "ruined his life", the jury heard.
They heard how Cherry was aware Miss Craft's flatmate was away in New York when he carried out the attack.
Footwear impressions found at the scene were left by size 10 Nike Dart trainers.
When Cherry's home was searched, a Nike box was found that had originally held size 10 Nike Dart trainers.
Analysis of CCTV footage, of a hooded man outside the flat before the attack, concluded he was 6ft 1in, the same height as Cherry.
Miss Craft released a statement, saying: "The past 18 months have been a living hell. The actions of Matthew Cherry on that day were callous, cold-hearted and utterly selfish.
"I will never forgive him for what he did to me and what he so nearly could have done to my baby."