Portland gold postbox for Paralympic sailor Helena Lucas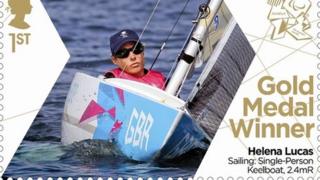 A postbox in the Dorset home town of Paralympic gold medallist Helena Lucas will be painted gold in honour of her win, Royal Mail has announced.
The 37-year-old sailor from Portland won the Single-Person Keelboat, 2.4mR class, on Thursday.
The postbox in Reforne will be painted on Friday, a Royal Mail spokesperson said.
Royal Mail has also produced a stamp to mark Ms Lucas's win which will be available from next week.