Police and crime commissioner elections: Dorset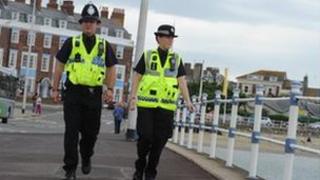 On 15 November 37 police and crime commissioners will be elected in England along with four in Wales.
The PCCs, as they will be known, will be tasked with scrutinising their force and holding it to account. They will also be able to hire and dismiss the chief constable and set the force's budget.
The commissioners will be paid and are supposed to empower local people into having a say on how crime is tackled in their area.
Nominations for candidates in Dorset have now officially closed.
BBC News has taken a look at each of the police forces ahead of the elections.
Dorset Police
Dorset is a largely rural county. While its eastern side around Bournemouth, Poole and Christchurch is more urban, the central, north and west is mainly rural farming land, villages and smaller towns.
Dorset Police covers an area of 1,024 square miles (2,650 square km) from the border with Hampshire in the east, Wiltshire and Somerset in the north and Devon in the west.
The PCC for Dorset will be elected into post in November and will replace Dorset Police Authority which will oversee and lead the transition.
The force area is made up of 12 sections: Bournemouth Central; Bournemouth East; Bournemouth North; Bridport; Christchurch; Dorchester and Sherborne; East Dorset; North Dorset; Poole; Poole South; Purbeck and Weymouth and Portland.
The force headquarters is based at Winfrith, between Wareham and Dorchester.
Martin Baker is chief constable, and Debbie Simpson is deputy chief constable.
Dorset Police says its objectives and values are based on "integrity, professionalism, fairness and respect".
Funding
Dorset Police's budget was set at £117m for 2012/13 - a reduction of about £3m compared to the 2011/12 figure of £120m. Further cuts are expected up until 2015, as part of the government's spending review, to reduce the budget by a total of about £20m.
The spending review has also resulted in 270 Dorset Police officer and staff posts going - including 56 front line PCs and six PCSOs. Another 162 officer and 160 staff posts will have to be cut by 2014/15 in order to meet the budget requirement.
There is currently a recruitment freeze for both officers and staff.
Chief Constable Baker, who is due to step down at the end of the month, says: "In the medium term, the force is at increased risk of operating from increasingly ageing assets, including estates, technology, vehicles and specialist equipment.
"The force is already the fourth lowest spending force in England and Wales, with a high proportion of its budget spent on front-line officers and very low management support costs.
"This has been achieved while maintaining high level performance in relation to both cutting crime and cutting costs."
Crime and performance
Figures released this summer showed that at the end of 2011/12 the total number of recorded crimes in Dorset was at a 14-year low.
In the first quarter of 2012/13 there had been a further 14% fall in overall crime, compared with the same period last year - equating to approximately 1,500 fewer crimes.
However, the figures also showed that more than three-quarters of crimes committed in the county last year remained unsolved.
Of the crimes reported to Dorset Police in 2011, 78% remain undetected, with no-one being charged or prosecuted.