PC Matthew Cherry denies punching pregnant ex-girlfriend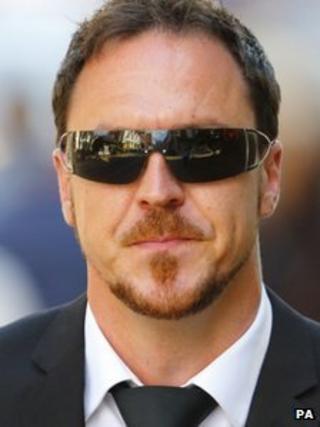 A Dorset Police officer has denied repeatedly punching his pregnant ex-girlfriend in the stomach because he did not want her to have his baby.
Matthew Cherry, 35, of Parkstone, Poole, is accused of attacking Caroline Craft, 27, while wearing a balaclava at her flat in Bournemouth.
Mr Cherry told Winchester Crown Court he was renovating a nearby house at the time of the attack on 24 March 2011.
He denies a charge of attempted GBH with intent.
When questioned by his defence if he was the attacker who entered the property, Mr Cherry replied: "No, I was not."
The court had already heard the prosecution claim Mr Cherry was angry, aggressive and desperate for Miss Craft to have an abortion after she told him she was pregnant in October 2010.
When questioned by his defence, Mr Cherry admitted he had been "forceful" when the couple went to see a doctor about the pregnancy.
Pressured a termination
"If I'm honest, I didn't want the child in that particular time of my life," he said.
The couple had been living together at the time Miss Craft became pregnant, but Mr Cherry said he moved out to give her space.
He denied telling Miss Craft or her friend Carla Hutchings that he had thought about punching her in the stomach so that she would lose the child.
But he did say the couple had talked about a miscarriage.
The pair decided to split up after Miss Craft decided not to have the termination.
Then six months pregnant, she had been waiting for an estate agent to arrive at her flat on the day of the attack.
Miss Craft opened the door and was pushed to the floor and attacked with multiple punches to her stomach and back, in a way the prosecution say targeted her unborn child.
The attack ended when the estate agent arrived and the masked man fled through the back door.
Miss Craft was taken to hospital with extensive bruising, but neither she nor her unborn baby were seriously harmed.
The trial continues.