Bournemouth Air Festival evacuation following false alarm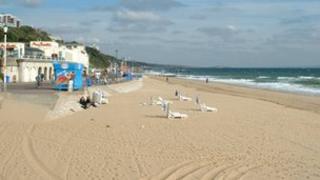 A unexploded World War II device has been detonated on Bournemouth beach, according to Dorset Police.
The discovery was made on Friday at 19:11 BST near the junction of East Overcliff Drive and Manor Road.
Police set up a 400m cordon and Bournemouth Air Festival visitors in the area were evacuated. The festival events were unaffected.
The cordon was lifted at 22:40 BST and no further disruptions are expected. The festival runs until Sunday.
Last year's festival was overshadowed by the death of Red Arrows Pilot Flt Lt Jon Egging.
He was killed when his aircraft crashed into a field near Bournemouth Airport on 20 August.