Thomas Hardy's birthplace makeover bid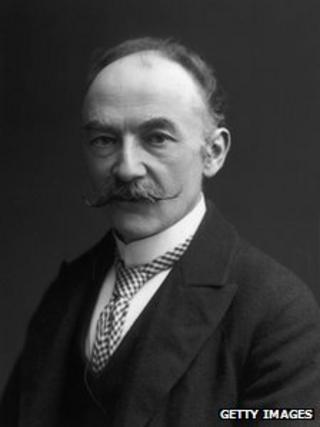 A bid of £700,000 to revamp the birthplace of the Victorian writer Thomas Hardy has been made to the Heritage Lottery Fund.
The plan is to improve the visitor facilities near the secluded cottage in Higher Bockhampton, near Dorset.
Alan King, from the National Trust, said the "friendly" learning centre would be a distance from the house so as not to affect its appearance.
Hardy's novels include Jude the Obscure and Tess of the d'Urbervilles.
Mr King added: "It will be a welcoming point on the edge of Thorncombe Wood all about Hardy's life and his love of the country. You then walk through the woods to get to the cottage."
Mike Nixon, secretary of the Thomas Hardy Society, said the improvements would help promote Hardy's message.
He added: "It's one that makes the world a little more civilised, as he was a tolerant man who recognised people's foibles.
"Like the Brontes and Shakespeare, Hardy is a strong brand."
The joint bid has been made by the National Trust and Dorset County Council.
Proposals also include new toilets and a small cafe.
'Much-needed facility'
Tour guide Alistair Chisholm said he was "delighted" that plans were in place.
He added: "It's very important that you retain its sense of isolation and context in the middle of nowhere.
"One could carp and say they should have done this years ago but this is Dorset and it's always going to be a bit slow.
"It sounds like this won't destroy the atmosphere, is appropriate and is a much-needed facility for a man who continues to be recognised and commands a great deal of respect."
The results of the bid are expected in mid-Autumn.
According to the Dorchester Business Improvement District, the cottage was built by Hardy's great-grandfather in 1800.
It is also where Hardy wrote his 1874 novel Far from the Madding Crowd.