Dorset tunnel landslip: Engineers begin work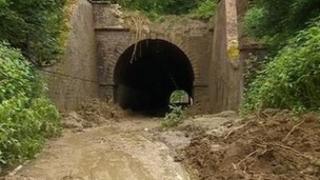 Work has begun to assess the stability of a partially collapsed road tunnel in Dorset where two people died in a landslip.
Rosemary Snell, 67, and Michael Rolfe, 72, from Somerset, were killed when a landslip at the tunnel's entrance crushed and buried their car.
Engineers are to drill 25m (82ft) boreholes as part of their inspection of the site.
The tunnel has been closed since the landslip on 7 July.
Dorset County Council said there was a risk of further slips.
Once the drilling samples have been analysed, an assessment on the stability of the hillside is expected by the end of September.
Dorset County Council's director for environment Miles Butler said: "While I understand that local people want a quick solution, we need to make sure that we carefully consider the alternatives.
"This requires preliminary work which is now under way."
Among the solutions being considered is to extend the tunnel, either temporarily or permanently.
Another is to stabilise the hillside using a technique called soil nailing - inserting rods into the ground - but the council said it would only work if the ground beneath was found to be suitable.
Ms Snell and Mr Rolfe went missing on 7 July but it was not until nine days later that Avon and Somerset Police alerted colleagues in Dorset the couple had been traced to the Beaminster area.
The vehicle, a silver Skoda, was crushed under several hundred tonnes of water, mud, bricks and trees.