Petition aims to save Blandford Forum park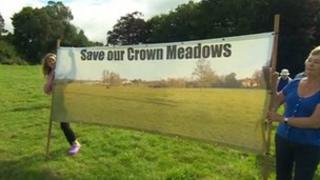 A Dorset campaign group has created a petition with almost 6,000 signatures in an attempt to stop a former deer park being earmarked for housing.
Bryanston Park Preservation Group gave the names to North Dorset District Council, which is considering land around Blandford Forum.
The council needs to identify sites to build 1,500 homes in the area by 2026.
It said the petition will be taken into consideration when it consults on possible land in the autumn.
The group's chairman, John Cook, said there were two other alternative sites which would be better than Bryanston Park.
He said having up to 200 new homes on the parkland, which had only one access route, would result in 1,000 extra car journeys putting extra strain on the town's already congested one-way system.
"It would crucify the town," he said. "The park also forms an iconic setting for the town and the last thing the people want is to see is a housing estate there."