Pink Floyd's The Wall photographs shown in Swanage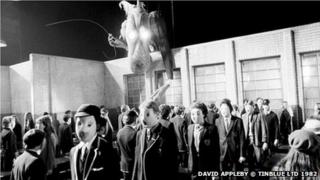 Previously unseen photographs from the Pink Floyd film The Wall have gone on display at a seaside gallery in Dorset.
The exhibition of 47 specially-printed works are on show at the Photographer's Lounge in Swanage to mark the film's 30th anniversary.
The behind the scenes shots feature Sir Bob Geldof, Sir Alan Parker, Roger Waters and David Gilmore.
Photographer David Appleby took the stills on the set of the 1982 film based on the Pink Floyd album.
Mr Appleby contacted the gallery in Swanage to host the exhibition after holidaying in the resort last year.
'Clash of egos'
"It's a never-ending amazing experience for me to see how something I photographed 30 years ago still carries the same impact two or three generations gone," he said.
"It was a clash of big egos - out of those clashes came this brilliant film."
Based in Wells, Somerset, Mr Appleby thought the negatives from the material had ended up archived in America until Pinewood Studios contacted him.
"They'd stumbled across 10,000 negatives in the archive vaults of the studios," he said.
Written by Pink Floyd's Roger Waters the film was inspired by his own schooling in the 1950s. It was a protest against the strict regime he felt had tried to suppress children, rather than inspire them.