Monmouth Beach near Lyme Regis closed over landslip fears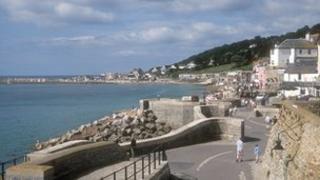 A beach on Dorset's Jurassic Coast has been closed amid fears of further landslips.
Natural England has closed Monmouth Beach, west of Lyme Regis, after heavy rain caused a series of rock falls.
It said spring tides and unsettled weather expected towards the end of the week could cause further problems and warning signs could be washed away.
The beach is about 12 miles from Burton Bradstock, where a 22-year-old woman died in a landslip in July.
Charlotte Blackman from Heanor, Derbyshire, died on 24 July after the 160ft (49m) high cliff above her collapsed on to Hive Beach.
Five people also escaped unhurt after a landslide on 8 August between Charmouth and Golden Cap.
'Difficult decision'
Tom Sunderland, senior manager of the Axmouth to Lyme Regis Undercliffs National Nature Reserve, said: "'We have seen continued rock falls along Monmouth Beach over this last week and with high spring tides due we have made a decision to close the beach in the interests of public safety.
"This has been a difficult decision and not one taken lightly by Natural England or the landowners.
"The closure is in place because we cannot guarantee that the warning signs will stay in place with the high spring tides.
"We will review the situation after the spring tides and hope to be able to open the cliff section along Monmouth Beach as soon as possible."
Visitors have also been urged to stay away from the base of other cliffs and slopes along the Jurassic Coast, which is one of the most unstable coastlines in the world.