Did Olympics trade offer "golden egg" in Weymouth and Portland?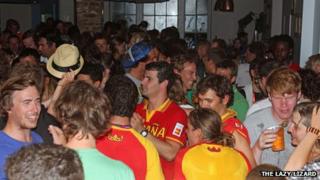 Weymouth and Portland were the small seaside towns that hosted the world of sailing during London 2012, but now the dust has settled, what impact did the Games have?
Early on Monday morning and the live arena is being dismantled. The only people strolling on the beach are those scanning the sand with metal detectors.
Many businesses initially reported a "slow start" at the opening of the Olympics.
The 15,000-strong spectator area was sold out but the 60,000-plus visitors a day which were expected never materialised.
The Bayside Festival on the pier featuring music, events and stalls had closed due to lack of visitors.
However, bar and shop owners said trade did pick up as the weeks progressed.
'Like a carnival'
Manager of Bar Banus in Weymouth, Georgina Grayson, said: "It was a slow start but in the end everyone had a brilliant time, trade picked up and this morning has felt like a real anti-climax."
She added her upstairs bar room had been adopted by the USA team and their families, leading her to put up an American flag alongside the union jack.
"I may not have got the bucket and spade brigade off the beach but the American team more than made up for it," she said.
Olympians patronising establishments has helped to improve trade for other businesses too, such as Gary Record's neighbouring Weymouth bars The Lazy Lizard and The Nook.
Thanks to British sailor Iain Percy staying in the bed and breakfast upstairs in past years, he and fellow Brits Nick Dempsey and Ben Ainslie have made Mr Record's bars their local haunt.
"Every night has felt like a carnival," he said.
"Sailors of all nationalities came in showing off their medals, and the Brazilians - now they're the ones who really know how to dance."
Golden egg
He added that some sailors were partying there until 06:00 BST on Monday morning.
"It was a slow start but once word got around that the sailors were drinking here, if felt like the whole of Weymouth was here," he said.
However, Steve Parker, landlord of The Dorothy Inn in Weymouth said the lack of visitors would lead a lot of businesses to complain to the local council.
"Business was on a par with last year, we expected it to be busier than what we got," he said.
"We were promised a golden egg that never arrived."
He said he hoped next season would be "booming", with more international tourists after seeing the beach resort on the television.
Sam Roots, manager of Weymouth's Edz gift shop, said she hoped the Olympics would boost international trade in the future as a lot of Danish holidaymakers had visited her shop during the sailing events.
"If you'd have asked me two weeks ago how I'd view the Olympics, I would've been quite begrudging but it turned out to be very positive," she said of both trade and atmosphere.
Massage tables
Margaret Dunlop, manager of the Queen Anne House bed and breakfast on Portland, said she had never hosted so many overseas visitors.
She has developed a bond with three female members of the Russian sailing team, who have been staying with her during various sailing events since 2009.
"It was really difficult when the Russians were competing against Team GB," she said.
"Obviously I wanted Team GB to do well but the Russian team were my girls."
"Prior to their arrival this huge black car turned up with luggage," she said.
"In it was not only tonnes of suitcases but also their workout stuff - round balls and two massage tables - and seven massive boxes packed with their Russian uniforms."
Their breakfast routine consisted of porridge every day and "every single type of berry on the breakfast table", she said.