Warning over ignoring Jurassic Coast cliff landslip warnings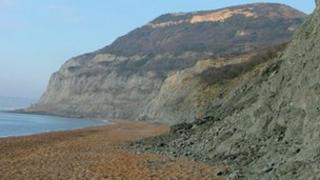 Visitors should exercise "personal responsibility" when around cliffs and beaches, the head of Dorset's Jurassic Coast has said.
Dr Sam Rose said heavy rainfall followed by dry weather has left cliffs in parts of west Dorset unstable.
The warning comes as additional safety signs are being put up along the coastline and at information centres.
Charmouth-based tour guide Chris Pamplin said people ignoring warnings was a "huge problem".
Mr Pamplin, who runs fossil hunting tours on beaches around Charmouth, called on the council to do more to discourage people from getting too close to potentially unstable cliffs.
"It just astounds me that people ignore the dangers - I've almost given up trying to warn people."
Mr Rose, leader of Dorset County Council's Jurassic Coast team, said: "We encourage personal responsibility - the vast majority of people will take care and listen to advice but some people walk past the signs.
"The relevant material is out there telling people to keep away from the base of cliffs."
Charlotte Blackman, 22, from Heanor, Derbyshire died on 24 July after the 160ft (49m) high cliff above her collapsed onto Hive Beach near Burton Bradstock.
Five people escaped unhurt after a landslide on 8 August between Charmouth and Golden Cap.