Dorset holds nettle eating competition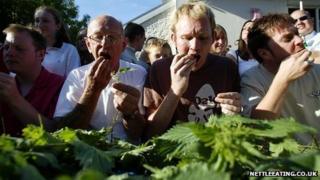 A stinging nettle-eating competition is taking place in Dorset.
Held at The Bottle Inn pub at Marshwood near Bridport, the event sees around 50 contestants eat nettles cut into 2ft (60cm) lengths non-stop for an hour.
The person who has cleared the leaves from the most lengths is declared the winner.
The annual event which started out as a longest nettle competition between local farmers has been running for 26 years.
Numb tongue
Competitors whose tongue and lips turn black from the prickly foliage roll the leaves up to avoid being stung watched by a audience of around 2,000.
The pub's landlord Chris Thomas said: "Apparently after the first few minutes your tongue and mouth become numb, which is how people can do it."
The current record at the event for the most amount of nettles eaten in one hour at the event is 76ft (23m).
It was set by Simon Sleigh, an organic vegetable grower from Hawkchurch, near Axminster, Devon.