Weymouth Bayside Festival closes after low visitor numbers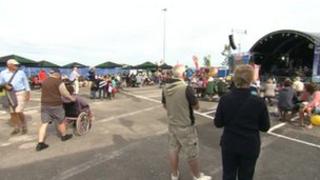 A major attraction that was a part of Weymouth's celebrations for the Olympic sailing events has closed after lower than expected visitor numbers.
The Bayside Festival featured two weeks of live entertainment, displays, food and drink on the Esplanade.
Organisers Mainsail Ltd said on Twitter they had "elected to voluntarily liquidate the business and close the site".
They blamed "dire" visitor numbers for the decision.
The festival had attracted 17,000 fewer visitors in the first three days than had been predicted. The doors closed at 10:00 BST.
A further statement from the Isle of Wight-based company said: "Our priority now is naturally the welfare of our employees, who have worked tirelessly over many months to bring the vision for the Olympics in Weymouth alive.
"We are proud of them all and would like to thank them for all they have done.
"But please go to Weymouth and see the Olympics for yourselves," it added.
Weymouth and Portland Borough Council Chief Executive David Clark said he was "very disappointed" at the closure.
"The decision to close this single part of what is on offer in Weymouth at the moment is entirely a matter for the commercial operator of that site," he added.
The festival had featured appearances from musicians including Chesney Hawkes and Show of Hands as well as military equipment displays and a sailing exhibition.
Employees and stallholders have complained about being left out-of-pocket.
Stallholder Molly Charlesworth said: "Everyone in there has paid for a pitch and lost their deposit - that's obviously our takings.
"It's been quiet in Weymouth since the begining of the Olympics but now there's nothing going on at all."
Andrew Knowles had been a volunteer on a church stand at the festival and has three daughters who worked on the site.
"It was certainly been quieter than anticipated," he said.
"People who had paid to come in were generally very positive about it, it just seems there are not enough people in Weymouth," he said.
On Tuesday, parking charges were reduced following criticism from businesses that warnings about congestion were dissuading visitors from coming into the resort during the Olympics.
Mainsail was also due to provide onshore entertainment facilities at the annual Cowes Week sailing regatta on the Isle of Wight.
A Cowes Week statement said it was "disappointed" at the development but hoped to reach agreement with another events company.