Dorset cliff landslide: Tourism warning for Jurassic coast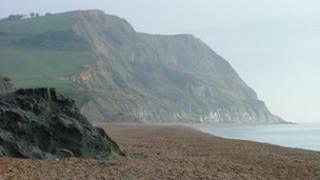 Restrictions on accessing the west Dorset coast following a fatal landslide could hit the local economy, tourist businesses have said.
Hundreds of tonnes of rock fell from the cliff on to a beach near Burton Bradstock, killing Charlotte Blackman, 22, from Derbyshire on Tuesday.
Parts of the clifftop coast path have been closed.
Holiday park owner Martin Cox said it compounded a "very difficult start to the tourist season".
Geological investigations are being carried out to assess the impact of recent heavy rainfall followed by hot weather.
Sam Rose, Dorset County Council Jurassic Coast team leader, said visitors should heed warning signs and avoid beaches with cliff backdrops as there was a danger of further slides.
"There are still many fantastic beaches and walks that are not affected and which are being enjoyed by many people safely," he added.
The path closure between Lyme Regis and West Bexington will be reviewed daily.
'Negative impact'
However, tourist businesses along the coast have voiced concern about the potential impact on the local economy.
Mr Cox said the parks had already received calls from people who had holiday bookings, checking whether the area was open and safe.
"We have every sympathy with the family of the woman in this tragic accident," he said.
"It's been a very difficult start to the tourist season, now this has occurred. If there is a closure of the coast path, that will no doubt have an impact on tourism.
"The coastline is what it is because the cliffs fall and crumble - that's what makes it so attractive and what brings people to the area," he said.
"Visitors need to be aware of the dangers we have lived with all our lives."
Jayne Harris, who runs the Footscape walking holiday company near Dorchester, said: "If the path isn't opened up it would have a negative impact on us in the long term as we'd lose a lovely walking area."
She said she had already had to re-route organised walks for clients to take account of path closures.
Dr Simon Boxall, of the National Oceanography Centre, in Southampton, said the soft nature of the sandstone rock made it prone to erosion.
"In this case the two weeks of extensive flooding soaked the entire cliff in a lot of water.
"The recent hot weather then dries out and cracks the cliffs.
"Falls happen all the time, but are more common in winter. It was very sad and tragic this woman was caught underneath it."
Ms Blackman, her boyfriend and her father were all buried when the 160ft (49m) high cliff above them collapsed.
The men were pulled free by bystanders but Ms Blackman was dead when she was recovered later.
Her uncle Douglas Blackman described her as a "lively, fun-loving woman, who had her whole life in front of her".