BBC Rogue Traders' Dan Penteado jailed for benefit fraud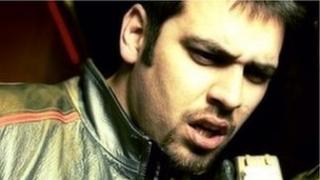 A presenter on the BBC consumer affairs show Rogue Traders has been jailed for 12 weeks for benefit fraud totalling more than £24,000.
Dan Penteado, 40, from Bournemouth, admitted eight offences of dishonestly or knowingly claiming housing and council tax benefits.
Bournemouth Magistrates' Court heard he failed to declare his BBC earnings.
A spokesperson for the corporation said Penteado would not be returning to the programme.
He had been the motorbike-riding on-screen sidekick of Rogue Traders star Matt Allwright since 2001.
During a hearing at Bournemouth Magistrate's Court in June, the prosecution said the offences went back to 2007 when Penteado filled out his first claim form and failed to declare he had another bank account.
'Truly shocking'
The court heard he repeated the fraud in subsequent years up to 2011.
In that time Penteado failed to tell Bournemouth Borough Council he had been paid more than £56,000 for his work on Rogue Traders from 2008 to 2011.
He was paid a total of £24,077 in housing and council tax benefits.
His solicitor Terrence Scanlan told the court he committed the fraud from 2008 to 2012 because he was on a short-term contract with the BBC and made the "very poor judgment not to interrupt the flow of housing benefit".
The council brought the prosecution after a member of staff dealing with a benefits claim recognised the TV personality from a newspaper article.
Councillor David Smith, cabinet member for planning and environment, said: "The amount of money stolen in this case is truly shocking. We are pleased that Mr Penteado has now been successfully prosecuted and brought to justice.
"The council will not tolerate benefit fraud and will always take action to ensure public funds are protected from abuse and available to support the most vulnerable in society."
Passing sentence, chairman of the magistrate's board John Corben said it had not been a victimless crime and Penteado had "stolen from the public purse in a calculated way".
A BBC spokesperson said: "In light of the prosecution, Dan Penteado will not be returning to Rogue Traders."