Olympic torch: Weymouth Moving Tides procession cancelled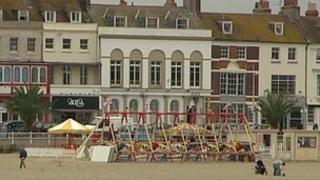 A procession in Weymouth ahead of the Olympic torch's arrival had to be cancelled because of a severe weather warning.
The Moving Tides Procession was due to be held in the town on Thursday afternoon with 1,000 people performing.
The Met Office issued the yellow warning for west Dorset, with heavy rain set to fall across the county.
The Torch Relay Evening Celebration show on Weymouth seafront is still taking place as planned.
It will include some of the drummers who were to take part in the procession.
Organisers are hoping to move the procession to September as part of the finale of the Cultural Olympiad.
Alan Rogers, co-ordinator for cultural events in Weymouth and Portland, said: "We cannot arrange for 1,000 people to process in the persistent rain and wind that is forecast.
"The well-being of the people involved in the procession and the stability of the costumes and props is our primary concern at this moment."
He added: "This has been the most difficult decision of my career but I feel that it was the right one to make."