Weymouth Olympic sailing park and ride site flooded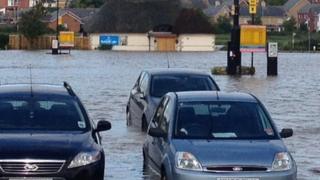 Part of Weymouth being used to transport spectators to the Olympic sailing events has been flooded.
Heavy rainfall over two days caused Radipole Lake to burst its banks overnight.
The council-owned car park is a drop-off point for park and ride buses bringing spectators to the Olympic sailing events later this month.
The BBC's Laurence Herdman reported an "extraordinary scene" of vehicles underwater in the car park.
A newly re-opened information centre at the nature reserve was also flooded.
Festival rained off
Elsewhere in Dorset, a flood warning remains in place for River Bride affecting High Street, Mill Street, Manor Farm and The Rookery in Burton Bradstock.
An annual multi-cultural festival in Dorchester which attracts several thousand people has been cancelled.
Organisers of the One World Festival on King's Road playing fields cancelled the event due to flooding on nearby roads.
Although further heavy rainfall has not been forecast for Sunday, Dorset Police urged drivers to proceed with caution as many roads are still flooded.
Ch Supt David Griffith said: "We advise motorists to exercise caution while driving and to show concern for other road users and nearby properties.
On Saturday Environment Agency river gauges have recorded record levels at the River Bride after parts of West Dorset received between 75mm and 120mm of rain in 24 hours - more than a month's worth of rain in a day.
In Lyme Regis, a deluge of water saw many residents barricading their homes with sandbags as water cascade through the town.