Emily Longley murder: Parents jailed for cover-up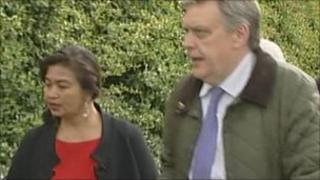 A couple who covered up their son's murder of his girlfriend at their Bournemouth home have been jailed.
Leigh Turner, 54, and Anita Turner, 51, were each given 27 month terms after being found guilty of perverting the course of justice.
They took away evidence and destroyed a confession letter by their son Elliot, 20, after he strangled Emily Longley, 17, in his bed at the family home.
Elliot Turner was convicted of murder at Winchester Crown Court in May.
Misplaced loyalty
Emily, an aspiring model from New Zealand, was found dead at the Turner family's house in Queenswood Avenue on 7 May last year.
In sentencing, Mrs Justice Dobbs said that it was a tragedy that the parents had lost their good character out of misplaced loyalty and their actions had caused their other son, aged 16, to suffer.
She said: "He has had to live with the knowledge that his brother was convicted of murder and, if that was not enough, his parents have been convicted of a serious offence and that must be a heavy burden to bear and he has lost his friends because of this."
The court heard that Mr Turner destroyed the confession letter written by his son with the knowledge and agreement of his wife.
Mrs Turner also removed a jacket from the crime scene as she feared it would have implicated Elliot.
Their actions were uncovered when police bugged their house and recorded conversations where they discussed whether they had done the right thing.
Speaking outside court, Emily's grandfather, Ron Longley, said: "Today brings a sort of conclusion to a dreadful year.
"We are satisfied with the sentence, we feel it was balanced and just."
Miss Longley, who moved to New Zealand with her parents aged nine, had returned to the UK to study at college just eight months before her murder.