Dorset launches first electric bus in South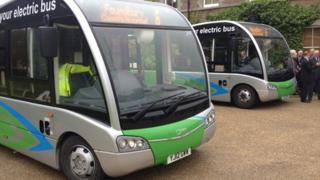 The first fully electric bus service in the south of England has been launched in Dorset.
The two buses will replace the diesel buses on the number six route from Dorchester centre to Poundbury.
A £166,000 grant from the Department for Transport's Green Bus Fund has helped to pay for the vehicles that cost £196,000 each.
Dorset County Council said it "hoped there will be funding in the future for more buses".
Councillor Peter Finney admitted the benefits of the new service would be numerous.
He said: "We'll save about 25% on our fuel costs and of course the emissions are low.
"Passengers will really notice the reduction in noise and air pollution when they start to use the service."
'Smoother ride'
Paul Cooper, the county council's passenger transport development officer, said the buses had the latest "enhanced battery system" technology and would be recharged at the depot every evening.
He added bus fares would stay "exactly the same" and that the buses would go as fast as a standard bus.
"There will be less carbon going into the atmosphere, of course there won't be any exhausts and it's a smoother ride," he said.
Fully electric bus services already run in Coventry and Durham, and other local authorities use hybrid buses - a combination of electric and diesel.
Dorset County Council has launched the service in partnership with West Dorset District Council and the Duchy of Cornwall.