Red Arrows pilot memorial given go-ahead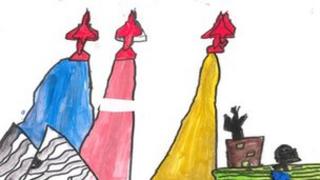 Plans for a memorial on a Bournemouth cliff top in memory of a Red Arrows pilot have been given the go-ahead.
Bournemouth Borough Council said it granted approval on Thursday for the Jon Egging memorial.
The sculpture of the Red Arrows flying over mountains is expected to be placed on top of the town's East Cliff in time for this year's air festival.
It has been designed by two pupils from Kinson Primary School and will be made locally by artist Tim Ward.
Penny Vallier, 10, and George Cutler, nine, had their design chosen by the pilot's widow Emma Egging following a competition held at Bournemouth schools last year.
Schoolchildren from their class have been invited to watch the laser cutting begin on the sculpture.
Councillor John Beesley said, "I am delighted that local children were able to provide the inspiration for the design and now get to see their ideas become a reality. It will be a very special spot and a fitting tribute."
Flt Lt Egging, 33, of Rutland, was killed when his aircraft crashed into a field at the village of Throop, near Bournemouth Airport, on 20 August 2011.