Occupy Bournemouth protesters set up new town hall camp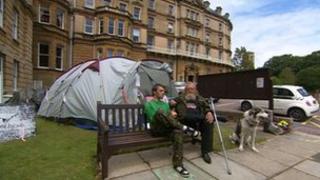 Protesters from the Occupy Bournemouth movement have returned to the town's council offices - hours after an eviction order ran out.
Officials say they will now begin fresh legal proceedings after nine tents were put up on lawns outside the offices.
A court order prohibiting the group from occupying the site expired on Monday.
Demonstrators from the same group were previously moved on from the town hall in November 2011.
Bournemouth Borough Council said there were fewer tents this time but it plans to seek an eviction order from the county court on Friday.
One protester called Seth said: "They'll probably give us notice to get us off the land and then we'll have to find somewhere else.
"We don't intend to cause any trouble. We will be strictly passive.
"We have voted against alcohol and we have voted against violence and we want to keep it that way - sober and rational."
Councillor David Smith said: "I think it's an awful indictment on today's society when people just turn up and camp outside our town hall.
"The law needs changing. It's completely unbalanced."
Mr Smith said wedding parties were being forced to re-arrange their photographs to avoid having the tents in the background.