Boscombe surf reef 'should be demolished'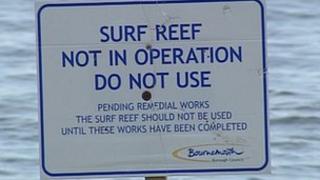 The future of Dorset's artificial reef has been called into question amid claims that it should be demolished.
ASR, the firm that built the £3.2m surf reef off Boscombe, had been due carry out repairs by 31 May, but its team has not yet arrived in the UK.
Bournemouth Labour councillor Ben Grower has called for the Conservative-led council to cut its ties with ASR and demolish the underwater structure.
The council said its focus was on an insurance claim for damage to the reef.
The BBC tried to contact New Zealand-based ASR and its managing director Nick Behunin, but the company has so far not responded.
The reef, which was finished in 2009, has been closed since March 2011 when it was damaged by a boat propeller.
It was previously criticised for not working properly and a specialist report by an academic at Plymouth found the reef had not achieved all its objectives.
'Danger to surfers'
Mr Grower said: "The council has really got to take its head out of the sand and demolish the reef.
"It's becoming a danger both to surfers and to swimmers and the quicker the council can find the money to demolish it and take it away and try and erase this blot on Bournemouth's history, then the sooner the better."
Chris Wakefield, Conservative councillor for Boscombe West, said he did not know of any plans for ASR to return to Boscombe.
He said: "I've heard nothing whatsoever, which is a great shame really, and as a local councillor I'm really concerned that they are not out on that reef and doing the work as they said they were going to do."
In a statement, the council's tourism director Mark Smith said: "We are focusing our efforts on the insurance claim for the original lost container, known as C4, and our priority is to agree a financial settlement with our insurers.
"Only once the position with the insurance claim is clarified will we make a decision on contractual issues and the relationship with ASR.
"The council remains committed to Boscombe and further enhancing the contribution the reef has already made."
The reef was created to enhance waves using 55 giant sand-filled bags, which are 740ft (225m) out at sea.
It opened in November 2009 after lengthy delays and running over budget.