Missing fishing boat Purbeck Isle found on seabed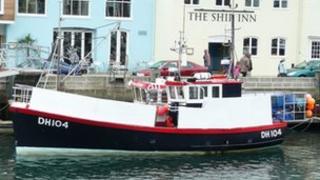 A wreck found on the seabed off the Dorset coast has been identified as the missing Purbeck Isle fishing vessel.
Survey ship Odyssey Explorer discovered the wreck lying 10 miles off Portland at a depth of 50m.
Lifeboats are searching for two missing fishermen after the body of one of the three crewman was found at sea on Friday evening.
Dorset Police have confirmed the man who died was David McFarlane, 35, the skipper of the crabber.
Coastguards began an extensive search after the vessel was reported missing at about 18:00 BST on Thursday.
The Maritime and Coastguard Agency (MCA) said it had received no communication from the crew before the boat disappeared.
Weymouth's mayor and mayoress, Graham and Mary Winter have laid flowers on the harbour wall at the boat's mooring.
Mayoress Winter, who broke down in tears at the harbourside, said: "As a mother myself my heart goes out to all the families and their friends, we're devastated it's so sad."
'Popular lads'
The search effort, which had involved a coastguard helicopter, lifeboats, a Royal Navy Destroyer and a US Navy supply vessel, was centred on a 10-mile area off the coast of Portland Bill.
Andy Alcock, 59, secretary of the Weymouth and Portland Fisherman and Licensed Boatman Association, said local fishermen had tried phoning the men's mobile phones.
"The lads had tried to phone the vessel and got just cut off lines, all three mobile phones just cut off, which is never a good sign," he said.
All three men had worked on other vessels in the harbour and were "popular lads", said Mr Alcock.
In January 2011, the then crew of the Purbeck Isle had to be airlifted to safety when the boat began taking on water.
It is understood the vessel was then given a major refit before it went back into service.