Re-enactment-loving couple speak of Dark Ages passion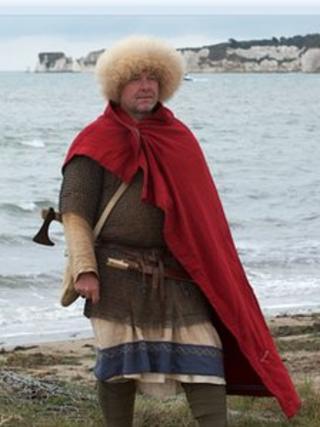 He was a heathen warrior in chain mail armour, she was a French nurse from World War II.
Together they danced across the floor to the soundtrack of 50s rock 'n' roll - welcome to the strange world of Tony and Claire Thorpe from Dorset.
The couple have been married for 25 years and both have a passion for re-enacting bygone eras. The only trouble is they are passionate about very different times.
"We do swap roles occasionally because if I went to every Viking weekend through the year we'd never see each other," said Mr Thorpe. "But I'll only go as far as a set in dungarees and a helmet."
The bizarre hobby began when the couple first started going to shows with their young daughter Ella about 12 years ago.
"I've always loved history, especially the Dark Ages," said Mr Thorpe.
"It started at school where I had a great history teacher who really inspired me.
"When we had our little girl we would go to festivals all around the country and one day at Kirby Hall we were watching a re-enactment and my wife said to me, 'why are we here on the top of the hill watching other people having fun?'
"We decided to get involved ourselves and we really love it."
Viking re-enacting is a niche pastime, with about 1,000 members nationally.
'Glorious Saxon victory'
Mrs Thorpe joined up with her husband but eventually found she was more drawn to World War II re-enactments.
But Mr Thorpe stuck with it and is now a high-ranking Saxon official known as an ealdorman.
He belongs to a 30-strong Weymouth club called Hrafnslith, which is Viking for Troop of the Raven.
Throughout the year they stage living history events to teach the public and schoolchildren about life in the Dark Ages.
In schools, Mr Thorpe, 53, said: "We take them into the Great Hall of learning and let them feel the skins and the weight of the chain mail. It is a very hands on experience and they absolutely love it.
"We are as authentic as we know how to be.
"Things are changing all the time with archaeology.
"Just recently they built a new road in Portland ahead of the Olympics and discovered the burial site of 50 decapitated Danes , another glorious Saxon victory for the men of Wessex," said the Weymouth-based painter and decorator.
"We are able to learn from these finds and incorporate the new discoveries into our re-enactments."
Priding themselves on being some of the best re-enactors in the country, Hrafnslith members meet every Tuesday.
"We rehearse combat practice to improve our skill levels," said Mr Thorpe. "Whatever level you join at we train people to be safe warriors.
"That's the most important thing."
Members of Hrafnslith will be involved in a full-scale Saxon and Viking re-enactment taking place at Corfe Castle from 5 to 7 May.
Over the three days a rolling story will unfold where members of the public can learn the differences between the Danes and Saxons.
There will be skirmishes, battles and an opportunity to attend the court of King Alfred while he desperately plans to repel the forces of the Danish King Guthram who intends to sack Wareham.
These events are inspired by real historical facts from AD876 when Guthram was leading raiding parties into Alfred's Kingdom of Wessex and exacting levies from the beleaguered defenders.
"We never have any problems getting enough warriors down to fill out the place," said Mr Thorpe.
"Claire comes along and takes pictures for a new website we are putting together and everyone is really supportive.
"It's a really great event with living history taking place all over the castle."