Dorset jail-fearing fugitive behind bars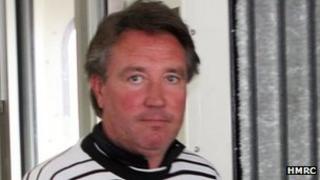 A fugitive who spent nearly four years on the run after telling a judge he was scared of prison has been jailed.
Mark Anthony McGovern, 49, who admitted laundering more than £270,000 of criminal proceeds, jumped bail before he could be sentenced in 2008.
Instead of attending court, he sent a note to the judge saying the thought of jail was "frightening and upsetting".
McGovern, who had been living in Poole, Dorset, was eventually tracked down in France before being extradited.
McGovern had pleaded guilty to transferring criminal property in April 2008, after laundering £278,340.87 of criminal proceeds, following a wider HM Revenue & Customs (HMRC) investigation into VAT fraud.
He was bailed and had been due to be sentenced at Canterbury Crown Court, where the case was heard, on 1 August 2008.
HM Revenue and Customs said the letter he wrote to judge Van de Bijl said: "I was totally amazed at the scope of the 'criminal lifestyle' legislation and have been unable to ready myself for this and feel it would be an impossible job from a prison cell.
"I assure your Honour that I will hand myself in as soon as I have completed this task."
He was sentenced to two years imprisonment in his absence on 29 August 2008.
HM Revenue & Customs (HMRC) said McGovern was finally tracked down and arrested by French authorities in the village of Neffiès, near Montpellier, on 28 March 2012.
He was jailed after a procedural appearance at Canterbury Crown Court.
He will appear at the same court in May in relation to the bail offence.
In addition to his main rented home near Sandbanks, McGovern owns a £420,000 property in Chigwell, Essex, HMRC said.
Martin Brown, HMRC Assistant Director Criminal Investigation, said: "McGovern is finally facing UK justice after four years on the run. We are determined to pursue fugitives and ensure they face the consequences of their criminal activity.
"We can now begin to recover the proceeds of crime he laundered, which with daily interest currently stands at over £345,000.
"HMRC would like to thank those key UK and European partners who assisted with this operation, resulting in McGovern's successful extradition."