Occupy Boscombe protesters evicted from arts centre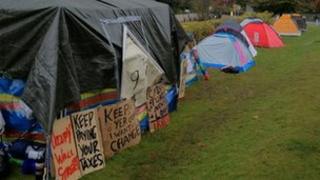 Squatters have been evicted from a Dorset community arts centre they had taken over.
Members of the Occupy and Anonymous UK protest movements had taken over the building in Boscombe, which is due to be partly demolished.
The land is to be cleared for affordable family homes and a smaller site for community use.
Bournemouth Borough Council said the eviction took place on Monday morning and the site was being made secure.
The protesters had said they were trying to safeguard the Bournemouth Centre for Community Arts, which has been empty since 2007.
The Boscombe Centre For Community Arts was created in 1878.
Originally called the Boscombe British School, it was created in 1878 for all the children of Boscombe by leading Victorian non-conformists Sir Percy Shelley (the son of the poet) and Frederick Moser.
The venue went on to become a venue for theatre and arts in the 20th Century.
The occupation of the building had been supported by the Friends of the Boscombe Centre for Community Arts, who say the building should entirely for community use.
Council leader John Beesley said the listed building part of the site would not be demolished and would be put into community use.