Cpl Anne-Marie Ellement 'hanged herself after bullying campaign'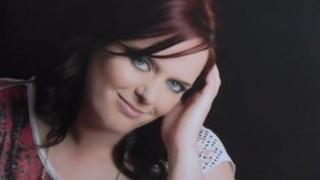 A military policewoman killed herself following a campaign of bullying after she accused two colleagues of rape, her mother has told the BBC.
Alexandra Barritt's daughter, Cpl Anne-Marie Ellement, 30, from Bournemouth, was found hanged at Bulford Camp in Wiltshire in October.
She alleged she was raped by two men but military prosecutors did not bring charges.
The Ministry of Defence (MoD) says it will investigate claims of bullying.
A spokesman said: "In the light of the allegations that have emerged...the Royal Military Police are examining whether the actions of its personnel were appropriate and in accordance with wider Army values and standards.
"Prior to Cpl Ellement's death she received extensive support from the Army, which continued up until her death.
"The Army has a zero tolerance policy to bullying and harassment of its personnel."
'Losing my friends'
Ms Barritt told the BBC her daughter had been let down.
She added: "I feel the rape case was what started everything off and it should be reopened.
"She wrote to me and said she was going through hell.
"I want to see justice for Anne-Marie and I don't believe there's been justice.
"She told me she was very depressed, very fed up with the army, and wanted to come out."
Ms Ellement's dream had been to become a soldier and follow her father and grandfather into the Army, her mother said.
She joined the military police, but after making the rape allegations she said her life began to fall apart.
After an investigation the Independent Service Prosecuting Authority decided no charges should be brought.
But according to Ms Barritt, a bullying campaign began after she was posted to Bulford Camp in Wiltshire with some of that taking place on the internet.
In an email to a friend Cpl Ellement wrote: "Hardly anyone is talking to me. Like I'd make up something that is this bad, destroying my career, and losing all my friends."
She was found hanged at the camp on 9 October.
In March an inquest in Salisbury recorded a verdict of suicide.
An MoD spokesperson told the BBC that "the inappropriate use of social media was not highlighted as a significant contributory factor" during the police investigation into her death.
Ms Barritt said she hoped her daughter's death would not be in vain.
"I feel there should be more support for female soldiers who make allegations of sexual misconduct by fellow soldiers.
"She was bright, vibrant, she had a very generous, kind heart, she always put other people before herself, loved children, loved animals and had many plans for the future.
"Each member of the family is devastated because Anne-Marie was a much loved daughter, sister and aunt."