Dorset officer is Afghan police mentor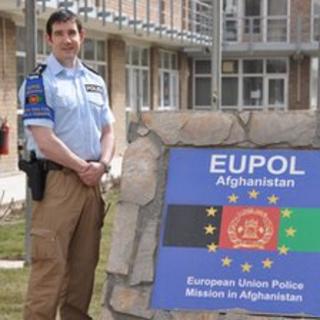 When Dorset Police officer Guy Shimmons submitted his CV to the Foreign and Commonwealth Office (FCO) in March last year, he had no idea where it would lead.
But when the detective inspector was put forward for a job in Afghanistan he jumped at the chance to help the war-torn country and broaden his horizons.
The father-of-two flew out to Kabul in November 2011 on a year's secondment and is now giving classroom training to Afghan police chiefs on how to tackle corruption.
His wife and teenage daughters supported his decision to take the post, but struggled with the idea at first.
"They couldn't believe what I was applying for," he said, "but they came around and they understand."
He added: "It was my youngest daughter who had the hardest time. We live in Poole where there is a big Royal Marines community. We have a number of friends serving in Afghanistan and one of the boys in her class lost his father last year.
"As parents, we spent time talking it through with our children so they understand and they have been incredibly supportive.
'Armed guards'
"We have an impression in the UK of how life is like here [in Afghanistan] and we see the media reports around the violence and fighting that's going on.
"There is a significant security risk that comes with working here.
"The living environment is certainly different. Living within a fortified compound, an area the size of four football pitches protected by armed guards, can be somewhat restrictive, especially when security concerns sometimes restrict our movement off the base for days at a time."
The FCO works with other countries to help build peace in areas affected by conflict - places such as Iraq, Georgia and Kosovo. There are around 500 staff from the European Union, Canada, New Zealand, Croatia and Norway in Kabul working for the European Police Mission in Afghanistan (EUPOL).
The EUPOL anti-corruption team is made up of police officers from the UK and Romania, contracted civilian staff from the UK, Germany, Spain, Belgium and Romania, as well as Afghan interpreters.
Det Insp Shimmons, who comes from a military family, sees his anti-corruption role as his chance to play a part in rebuilding Afghanistan.
He said: "I would have liked to spend some time in the military but I didn't. If we can help as a police force to stabilise Afghanistan after the military have done their bit then we will have contributed something."
Det Insp Simmons' role requires him to travel around the country. He and a colleague recently flew to Lashkar Gah in Helmand with the RAF and spent eight days mentoring the province's chief of police.
During his travels he experiences extreme temperatures and weather. He described the weather in November as a "British winter" with temperatures as low as -17C.
He said: "The guys in Helmand are working in temperatures of up to 50 degrees centigrade."