RNLI lifeguards brought in for Easter on Dorset beaches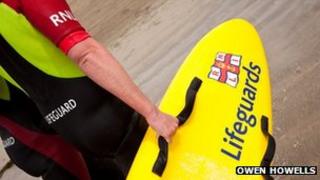 Three Dorset beaches will be patrolled by RNLI lifeguards during the Easter break due to the mild weather.
Bournemouth and Sandbanks beaches will be manned from Saturday alongside the year-round service on Boscombe beach.
The charity said it was the first time the beaches had been patrolled over the Easter school holidays.
On other Dorset beaches, RNLI lifeguards will begin their full summer season patrols from Saturday, 5 May.
Simon Crayford, RNLI said: "If the good weather we've recently enjoyed continues, it means we can expect a good number of families enjoying the region's beaches.
"The service is a result of the increased participation in water sports such as kite surfing and kayaking in the Dorset area, and more and more people using the beach for recreation."
Patrol season dates are staggered to take into account the number of visitors.