Pier of the Year award won by Swanage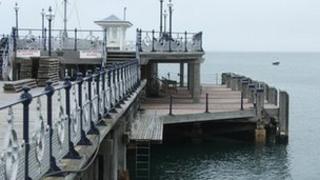 A Grade II-listed Dorset pier has been chosen as Pier of the Year.
Swanage Pier, which is run by volunteers, was voted for by members of the National Piers Society, beating 21 other nominated structures.
Opened in 1896 at a cost of £10,000, the 195m (642ft) pier has been fully restored after falling into disrepair in the 1960s.
After a £1m revamp, it re-opened in 1998 and now attracts more than 100,000 visitors a year.
Anthony Wills, of the National Piers Society, said: "It has been chosen in recognition of the efforts of the Swanage Pier Trust who own and operate it without subsidy, providing an excellent visitor experience, maintaining it in as good a condition as possible - subject to financial resources."
'Real honour'
Started in 1997, the National Piers Society decided to hold an annual ballot of its members to choose a Pier Of The Year.
Members are free to vote for any pier that is currently open, apart from winners from the previous five years.
Derek Tarrant, chairman of the Swanage Pier Trust, said: "It is a real honour to receive this prestigious award on behalf of all the volunteers and supporters who work so hard to keep the pier open for everyone to enjoy."
The pier originally thrived when it was used by holidaymakers arriving on paddle steamers. About 11,000 passengers visited the seaside resort in a single day.
One famous visitor was Enid Blyton whose adventure stories were inspired by the Isle of Purbeck countryside. The author was known to swim around the pier.
'Blown up'
In 1940, a section of the pier was blown up as an anti-invasion precaution to stop it being used for enemy landings. The missing section was replaced in 1948.
In 1966 steamship traffic to the pier dried up and it closed.
Left neglected for almost 30 years, it was taken on by the trust in 1994 and restored with more than £1m of funding from the Heritage Lottery Fund and a sponsor-a-plank scheme.
It has featured in a number of films and TV programmes including The Two Ronnies, Oscar Wilde and Tess of the D'urbervilles.
The pier has an underwater camera for visitors to see the marine life without getting their feet wet.
It is also home to what is believed to be Britain's oldest dive school, established in 1958.