Fears again for Dorset wildlife over dry spell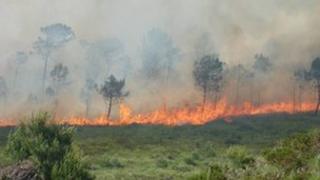 Rare birds, lizards and insects are under threat due to a dry spell which led to five heath fires last weekend, the Dorset Wildlife Trust has said.
A third of Upton Heath was devastated by a fire in June last year - Dorset's largest heath fire for 35 years.
It destroyed nesting habitats of Dartford warblers and nightjars.
The heath is also home to all six British species of reptiles, including rare sand lizards and smooth snakes as well as the common lizard, slow worms, grass snakes and adders.
Last weekend, 20 firefighters battled a new blaze on Upton Heath close to the scene of last year's major fire.
There were four other heath fires in Dorset as well as ain Sussex as temperatures soared to unseasonable highs.
'Very twitchy'
Upton Heath ranger Andy Fale said he was feeling "very twitchy at the moment" due to the dry conditions.
"It's incredibly dry, we haven't had any sensible rain for some time," he said.
"We need the rain for many reasons. It's good for the wildlife and there's the risk of fire."
Communications officer for the trust Nicky Hoar agreed.
"It's the worst it's been for some time," she said.
"We've had two dry winters, the heaths are very dry, and on Upton Heath we've got a lot of dry grass which has grown as result of the heath fire last year.
"In Upton a lot of the grass looks like an African savannah, because there's a lot of dry grass where there would normally be a lot of heather and gorse.
"This year is going to be a worry".
Firefighters were also called to a blaze on a heath at Hamworthy, near Poole, on Friday, sparked by a firework.
Another fire in Talbot Heath, near Bournemouth, on Saturday led to more than 50 calls from residents and members of the public as the flames crept close to their homes. An area larger than a football pitch was burnt before firefighters brought the blaze under control.
Eyes and ears
Although fires are not allowed on the heath, Mr Fale said both children and adults flouted the rules, either playing with matches or having fires while enjoying picnics and barbecues on the heath.
The rangers have tried to increase their presence in the area by recruiting volunteers to be their eyes and ears, looking out for small fires, in a scheme calledHeathWatch.
Mr Fale said it would be a long time before the habitat in Upton Heath recovered from last year's fire.
"The area is becoming quite green now but unfortunately that's not the whole picture," he said.
"Dartford warblers are heathland species and they're quite rare as heathland is such a rare habitat. They won't have returned yet.
"Dartford warblers require gorse and heather that's two or three feet high, which we won't get back for a couple of years."