Poole's Twin Sails bridge repair work under way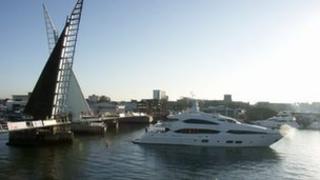 Poole's Twin Sails bridge could be open to traffic early in April, according to the council.
The opening of the new £37m lifting bridge linking Poole port and Hamworthy was delayed after part of the road surface fell off when it was raised.
Contractors have removed all the existing surfacing and waterproof material on the structure's steelwork.
Borough of Poole Council said it was "cautiously optimistic" the resurfacing work will be completed on schedule.
The bridge's opening was delayed after part of the road surface broke away from the raised bridge on 11 March. The council said "defective" sections were found on both lifting leaves.
Jim Bright, strategic director of Borough of Poole Council, said: "Following extensive discussions and input from independent experts from the Transport Research Laboratory, we've agreed a new specification that will see the road surface laid in a single layer rather than in multiple layers as it was originally set down. This eliminates the layer where the defect was observed."
Weather permitting, the resurfacing work is due to start on Monday.
A celebration day and a visit from the Princess Royal earlier in March went ahead despite the bridge remaining closed.