School memorial for cricket ball death boy Kyle Rees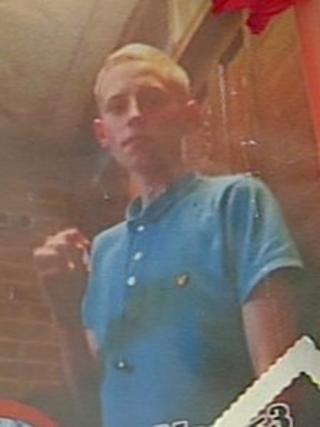 A memorial event to remember a teenager who died after being hit by a cricket ball has been held at the Dorset school where he was a pupil.
Kyle Rees, 16, a student at Portchester School, Bournemouth, was struck on the head in the playground on 28 February.
He died later in hospital. Police concluded it was a "tragic accident".
Two memorial services, to accommodate all pupils and year groups from both Portchester and Avonbourne schools, were held on Monday.
Debbie Godfrey-Phaure, executive headteacher of both neighbouring schools, said it was "a time to celebrate the life of Kyle Rees and to enable healing and reflection".
Commemorative tree
In a letter to parents and students she said those who wanted to wear dark or black clothing as a mark of respect and mourning could do so.
The school is planning to erect a memorial bench and tree in memory of Kyle, as well as a cup dedicated to inter-house football competitions.
Pupils who want to contribute funds towards these can do so, Ms Godfrey-Phaure said.
She added: "In addition we wish to make a contribution toward the trauma unit of Southampton hospital, who served Kyle to the best of their ability in the aftermath of this tragic accident."
Hundreds of people attended Kyle's funeral at St Andrew's Church in Bournemouth on Friday.
It was followed by a private committal at Bournemouth Crematorium. Portchester School had granted pupils a leave of absence to attend.
Kyle's mother Tanya Cooper read a tribute in church, in which she addressed the boy who threw the ball that hit her son.
She said: "Our hearts go out to Kyle's friend and his family.
"He needs to know that not for one second would Kyle or any of his family want him to feel responsible for this tragic accident."