Funeral for Kyle Rees, boy hit by cricket ball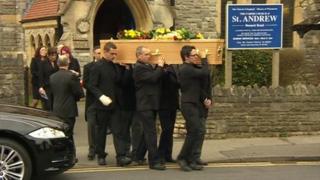 The funeral of a schoolboy who died after being hit by a cricket ball has been held in his home town in Dorset.
Kyle Rees, 16, a student at Portchester School, Bournemouth, was struck on the head in the playground last month.
Hundreds of people attended the service, which was held at St Andrew's Church in Bournemouth.
It was followed by a private committal at Bournemouth Crematorium. Portchester School had granted pupils a leave of absence to attend.
Kyle's mother Tanya Cooper read a tribute in church, in which she addressed the boy who threw the ball that hit her son.
'No malice'
She said: "Our hearts go out to Kyle's friend and his family.
"He needs to know that not for one second would Kyle or any of his family want him to feel responsible for this tragic accident."
The Reverend Graham Roberts, who led the service, said: "One of the lovely things has been the attitude of Kyle's mother.
"She bears no malice or ill-feeling towards the lad who threw the ball.
"In the tribute she's spoken so warmly and personably about Kyle.
"She describes him as 'one of the lads' but also about his 'great sunny nature' and really caring disposition.
"They made sure that every day when they left that there was always a proper 'I love you' and a 'goodbye', simply because of not knowing what would happen in the day.
"I think people are just deeply shocked and are trying to come to terms with that [Kyle's death].
"The rate of which that happens will vary from person to person.
"Portchester School reacted very well and set up a condolence book and rooms with pictures and flowers and enabled that to happen.
"Police have also been supportive of the family and Beet Language school, just opposite, have been hugely supportive.
"Tanya has worked there for a number of years and the family of that language school have been wonderful, and in many different ways have supported Tanya."
Portchester School said it would be holding a memorial service on Monday to enable all members of the school to pay their respects to Kyle.