Lily-Mae Jeffries killed in Weymouth crash on visit to feed ducks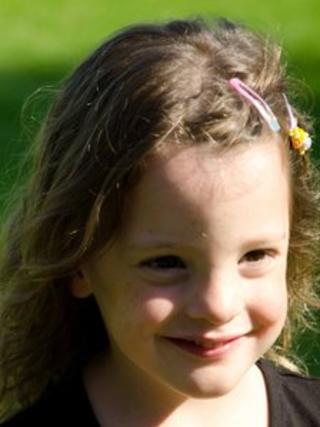 A five-year-old girl was killed in a crash in Dorset that also injured her grandmother and sisters as they crossed the road to feed the ducks.
Lily-Mae Jeffries and her two sisters were crossing the A354 in Weymouth with their grandmother, 72, when they were hit by two motorbikes on Sunday.
Lily-Mae was taken by air ambulance to hospital in Southampton where she died.
Her family, from Taunton, described her as the "apple of our eye" and said she made them "smile 100 times a day".
Lily-Mae's grandmother remains in hospital where she is being treated for her injuries.
Her sisters Kaycee-Ann, 10, Annabella, six, received treatment at Dorchester hospital but have since been reunited at home in Somerset with their brother Anthony, eight.
'Immense grief'
Lily-Mae and her two older sisters had been left with her grandparents in Dorset while her parents attended a birthday celebration.
Her family said the girls and their grandmother were crossing the road so they could feed the swans and ducks.
They said: "From what we now know, there is no other reason than to believe this was anything but a tragic accident and our thoughts are also with the motorcyclists who were involved as they are no doubt feeling immense grief due to the nature of what happened."
In the tribute, the Jeffries family said Lily-Mae died in her "mummy's and daddy's arms".
They continued: "Lily-Mae's passing has left an unfillable void in all of our lives; she was the apple of our eye and made us smile 100 times a day with her appetite for life and her infectious zest and spirit."
The family thanked passers-by who helped at the scene of the collision, as well as emergency services and hospital staff.
An inquest into Lily-Mae's death has been opened and adjourned at Dorchester Coroner's Court.