Occupy Bournemouth group stage university protest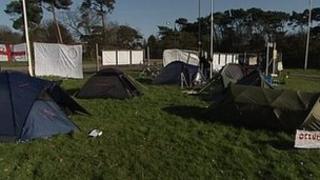 Protesters from the Occupy movement have set up camp at Bournemouth University demanding a meeting with its chancellor, UK Supreme Court President, Lord Nicholas Phillips.
The group say they want to speak to Lord Phillips who became chancellor in 2009, about the eviction of protesters from St Paul's Cathedral in London.
One protester said they wanted "access to his legal knowledge".
But the university has pledged to take legal action if they do not leave.
Occupy Bournemouth arrived at the university's Talbot campus on Friday and set up several tents.
One protester, Gary Sherborne from Boscombe, said: "Perhaps by occupying the land that he is the figurehead of we're hoping we might get access to his legal knowledge.
"There are current and desperate issues that need to be faced, it's the only way we can get access to some of the law lords."
He added that the group would stay at the campus "for as long as it takes".
A university spokesman said: "This protest is not connected with Bournemouth University.
"We have asked the demonstrators to leave the university grounds. If they do not respond to this request, we will have to take legal action.
"Our primary concern is the well-being and safety of our staff and students."
The Occupy movement grew out of protests in New York in September 2011 and is characterised by demonstrations and occupation with members supporting such themes as greater social justice and opposing what they regard as corporate greed and the global financial system.