Poole's Twin Sails Bridge celebrations but not open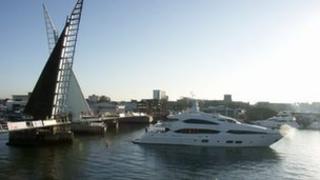 The formal opening of a £37m lifting bridge in Dorset took place without traffic being allowed across.
Thousands were expected at the two-hour event to mark the completion of Poole's Twin Sails Bridge.
The council had planned to open the bridge to motorists at the ceremony, but says more checks are needed.
It now says the event was not intended to be an official opening ceremony, but a celebration of the 85th anniversary of the original bridge.
A flotilla of illuminated vessels, live music and fireworks were on show.
It is the second time the opening of the bridge to traffic has been delayed.
No new date for the opening has been given.
Pedestrians are also being prevented from using the bridge.
Borough of Poole council has not revealed exactly what the problems are.
But it said "a number of minor issues need to be resolved before we can accept the bridge".
The bridge was originally supposed to open to traffic on 27 February but "small glitches" delayed the plans, the council said.
The Princess Royal is visiting the town on Monday to mark the completion and Royal Navy warship HMS Cattistock is also taking part in the celebrations.