Michael Turner's father spends life savings on Hungary legal fees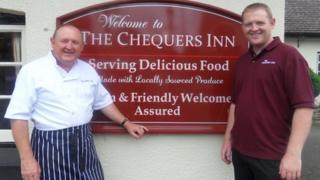 A Dorset pub landlord has spent his £100,000 life savings on fees after his son was accused of fraud in Hungary.
Michael Turner, 30, ran a Budapest time-share marketing firm which collapsed in 2005, allegedly owing about £18,000 to Hungarian creditors.
He was held for four months without charge at an ex KGB prison and now faces a trial in Budapest this summer.
His father Mark Turner, who runs the Castle Inn in Corfe Castle and the Chequers Inn in Lytchett Matravers, recalled how he was on holiday in the Canary Islands in 2008 when he received a telephone call from his son.
£5,000 surety
"Michael was in a real panic, saying there was a European arrest warrant (EAW) out for him. We had no idea what this was," he said.
"I immediately flew home and contacted our local solicitors but no one within a 50-mile radius would take the case on because they didn't feel equipped to assist."
Mr Turner instructed a London solicitor on behalf of Michael, who was arrested when he presented himself to police at London's Westminster Magistrates' Court.
He said he then had to provide a £5,000 surety to prevent Michael, who had not even had a speeding ticket before, spending the night in Wandsworth prison.
Mr Turner then had to appoint a London barrister when his son's case went to the High Court, as well as a lawyer in Budapest.
Hungarian special forces
He said: "Michael's barrister argued this case centred on a failed business so should be dealt with by the civil court but the judge said his hands were tied.
"That was the most frightening thing. My heart sank.
"A British person in a British court was asking for protection but there was nothing a judge could do because they're directed by a foreign power.
"We walked away feeling like we'd been condemned to some form of execution at an unknown place and time by unknown means."
Mr Turner returned to Dorset with Michael who had a week to say his goodbyes before travelling to Gatwick Airport to report to Interpol.
"There were four men in black T-shirts, who had shaved heads and necks thicker than most people's thighs, who we later found out were Hungarian special forces," Mr Turner said.
His son was then led through the airport in handcuffs, on a lead.
"That was the last I was to see him for a considerable time," Mr Turner recalled, wiping away tears.
Caged roof terrace
Mr Turner was told Michael would be able to contact him on arrival in Hungary but heard nothing from him.
He contacted the British Foreign and Commonwealth Office but they had no knowledge of a Briton being detained.
Mr Turner said: "Two days later we heard from our lawyer in Budapest who had found Michael. He was being held incognito.
"He was being detained on the seventh floor of a former KGB prison. The conditions were horrendous and it was a terrifying place to be."
Unable to speak the language and with no warm clothes, he was only allowed on to a caged roof terrace in temperatures of minus 20C for an hour a day and was only allowed one shower a week, Mr Turner said.
It was eight weeks before Michael was allowed a one-hour visit.
"When I saw him it was awful, he had lost two stone," Mr Turner said.
"He was being psychologically tortured. He'd be shouted at by the guards but wouldn't understand a word they were saying.
"They'd refused to give him access to a lawyer, the British consulate or an Anglican priest and they refused to give him an English/Hungarian dictionary."
Mr Turner questions what would have happened to his son had he not had a support network behind him.
"We had coach-loads of people demonstrating on Michael's behalf in Westminster and they would sit outside the Hungarian Embassy. His case was also mentioned in the House of Commons."
He was released, with no explanation, on 26 February 2010, having only been interviewed once by police during the four months he was held, and returned to Britain.
Mr Turner said: "Michael has never been the same. I think he suffered post traumatic stress.
"He went from a happy go-lucky gregarious young man to sullen and sombre. As a parent it makes you feel terrible, inadequate.
"He was so young and vibrant with great expectation but now we're watching year after year as his youth is eroded away, possibly into middle age."
Michael had to return to Budapest for further questioning and was finally charged with fraud, which he and his former business partner Jason McGoldrick, 39, from Devon, both deny.
The pair will stand trial in Budapest on 7 June.
The Home Office is currently considering its response to a review of European extradition arrangements.