Kyle Rees's death leaves Portchester School 'devastated'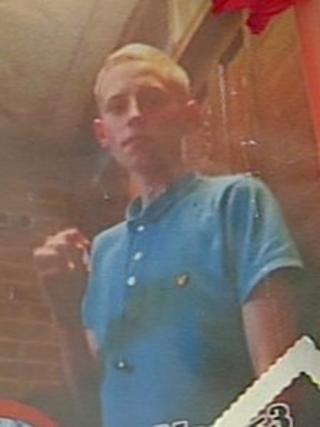 The head teacher of the school where a pupil died has spoken of how she is "utterly and completely devastated".
Kyle Rees, 16, died following the incident at Portchester School, Bournemouth, Dorset, on Monday.
Debbie Godfrey-Phaure said Kyle was a "lovely boy" who had left a "huge gap" at the school.
Kyle's parents visited the school on Wednesday and spent time with his friends and teachers.
Ms Godfrey-Phaure, executive head of Avonbourne International Business and Enterprise Trust, which runs Portchester School and neighbouring Avonbourne School, said: "Kyle was a lovely, lovely boy.
"Tributes have been written by all of those who knew him and show just how much he was loved here.
"No words can reflect the huge gap he leaves and the extent to which he will be missed."
She said that Kyle would remembered for many things, "not least his cheeky smile" and the ability to "make you laugh out loud".
'Memorial service'
"Books of condolence and memory boards have been set up for our students in both schools and special assemblies have been held," she continued.
"We hope to hold a memorial service here next week for Kyle.
"We are utterly and completely devastated by this tragedy but we will do all we possibly can to ensure that Kyle's memory is revered and respected as he so completely deserves."
Following the incident, in which Kyle was believed to have been struck with a cricket ball, he was taken to Bournemouth Hospital before being transferred to Southampton General Hospital in a critical condition, where he died on Tuesday.
A post-mortem examination was held on Wednesday, the outcome of which will be discussed at an inquest which is due to be opened in Bournemouth on Friday.