Britons appear in Hungarian court to deny fraud charges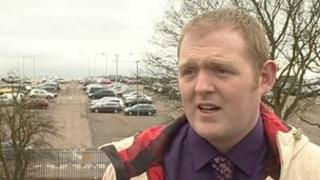 Two British businessmen who face fraud charges in Hungary after their business failed have appeared in court.
Michael Turner, 30, from Dorset, and Jason McGoldrick, 39, from Devon, were held for four months in Budapest after being extradited from the UK in 2009.
Their Budapest time-share marketing firm collapsed in 2005, allegedly owing about £18,000 to Hungarian creditors.
The two men, who deny the charges against them, will stand trial in the Hungarian capital June.
Mr Turner's father Mark has criticised the Hungarian authorities over the handling of the case against his son, who was extradited under a European Arrest Warrant (EAW).
'Completely alien'
He said the proceedings were "completely alien" and the cost of defending his son and Mr McGoldrick was "disproportionate to the accusations" against them.
Speaking from Budapest, Mark Turner said: "It has been stressful, especially having to face cameras and reporters (in court)."
Michael Turner, from Corfe Castle, told how he was led through an airport in handcuffs on a dog-style lead when he was first extradited on 2 November, 2009.
The businessman, was imprisoned at the Budapest Penitentiary Institute, where he was kept in his cell for 23 hours a day.
Unable to speak the language and with no warm clothes, he was only allowed on to a caged roof terrace in temperatures of minus 20C for an hour a day and was only allowed one shower a week, he said.
He was released, with no explanation, on 26 February 2010, having only been interviewed once by police, and returned to Britain.
UK Independence Party MEP William Dartmouth, who is supporting the two men, was also at court for the hearing.
"It is quite disgraceful that terror-suspect Qatada gets his legal fees funded by the taxpayer, while these British citizens have been bled dry in order to ensure their freedom from imprisonment," he said.
The Home Office is currently considering its response to a review of European extradition arrangements.